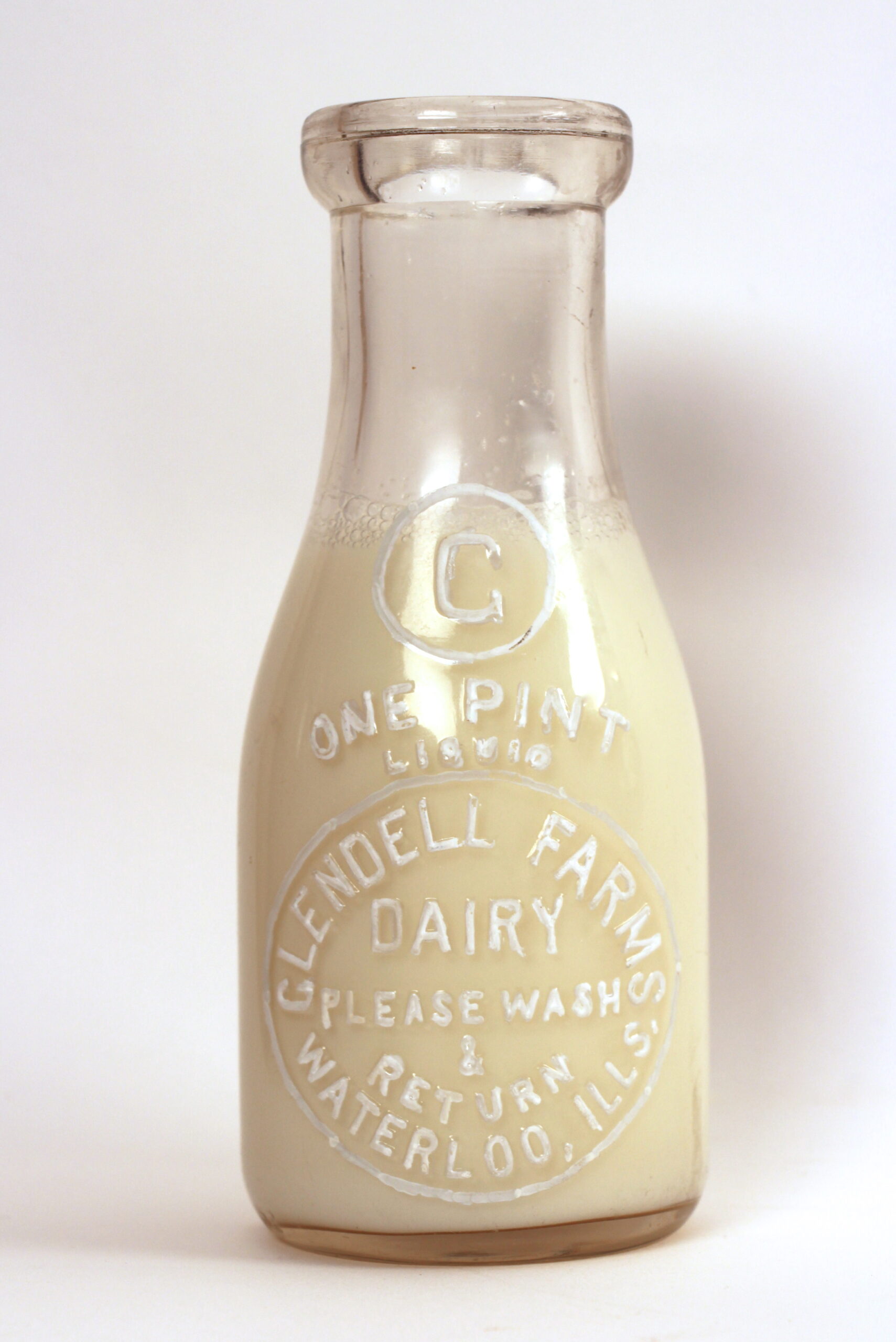 Glendale Farm Dairy Milk Bottle Circa 1930
This Glendell Farm Dairy Milk Bottle is from Waterloo, Illinois Circa 1930. It is a clear pint size milk bottle and is embossed with white raised lettering. Inside the Glendell Farm Dairy logo, it states "Please Wash & Return". This message was included on the bottle because dairy farms wanted customers to return their milk bottles in order to reuse them.
On the bottom of the milk bottle it includes an embossed mark  "MEYER-BLANKE CO." in an inverted arch that wrapped counterclockwise almost entirely around the base. Meyer-Blanke Co. was based in St. Louis, Mo. and was considered a bottle supplier rather than a manufacturer.  Meyer-Blanke Co. started in 1920 and was formed out of the Blanke Mfg. & Supply Co.  Meyer-Blanke Co. supplied milk bottles from the late 1920's-1930's.
Overall, many antique advertising collectors are interested in the early milk bottles that were used for home deliveries. The milk bottles had embossments or the pyroglazed paintings with names of the dairies on them. The dairies wanted their company names on the bottles so they would get returned to them and reused. Milk bottles were mostly round through the 1950′s, then square shape became more popular. Otherwise, bottles tend to look very similar with clear glass and either a short or medium length neck. They also had a rounded collar but not a wide mouth to make pouring easy. The value of the bottles depend on the condition, the size, the dairy, the image and message, and the paint color.
As manufacturers improved making milk bottles they found it was less expensive to change from embossed labels to applied colored labels know as ACL's. Bottles with ACL's and ones that used embossed slug plates are often considered valuable. By the 1960′s, glass milk bottles were replaced with paper cartons and plastic milk containers that were less expensive to make but preserved the milk's freshness.