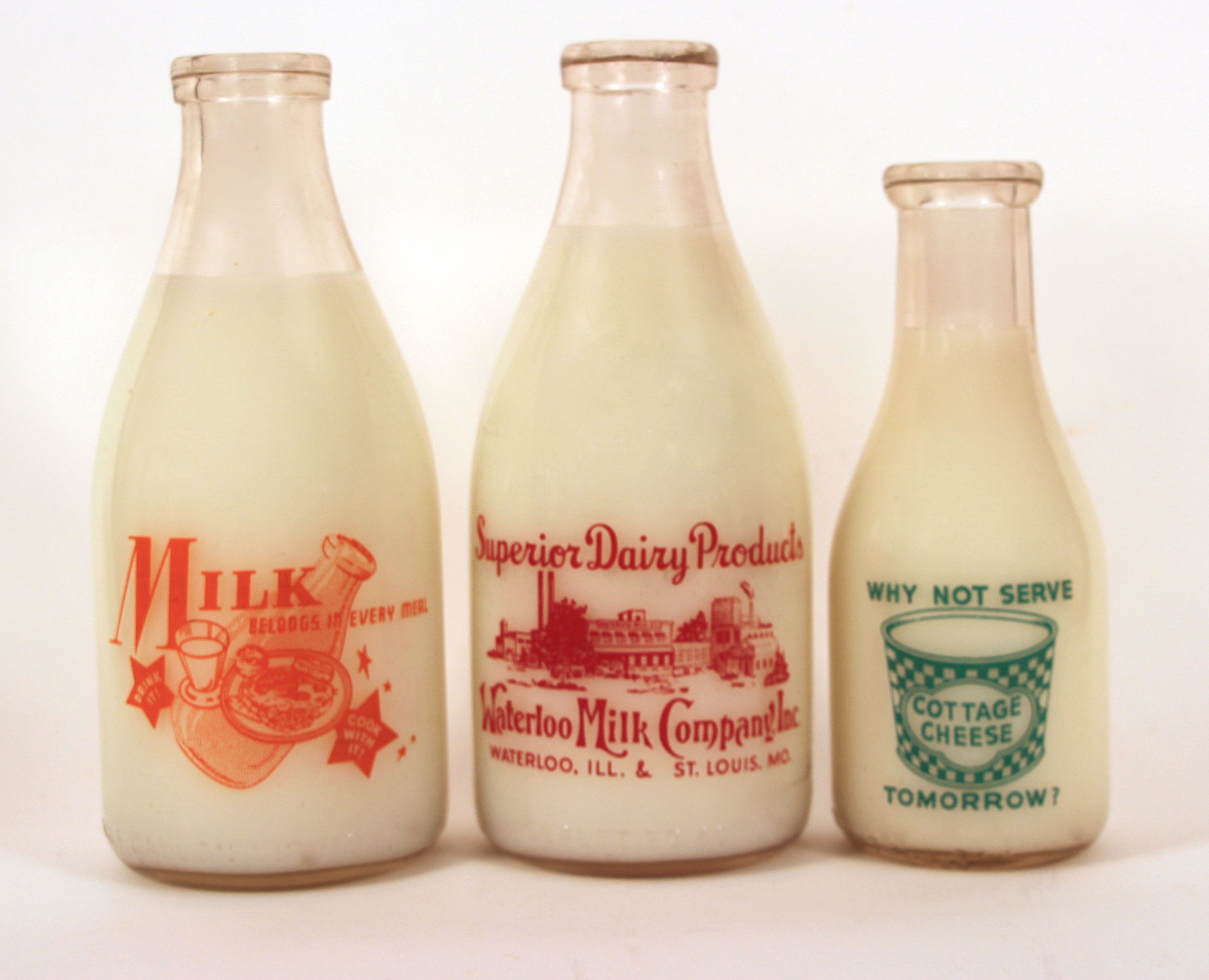 These are milk bottles from the Waterloo Milk Company based in Waterloo, Illinois, circa 1940's. The glass bottles featured "pyroglazed" paintings and had "applied colored labels" also known as ACL's. The orange label reads, "Milk Completes your Daily Meals". The red label on the back states, "No One ever Outgrows the Need for Milk". The green label asks, "Why Not Serve Cottage Cheese Tomorrow?". Waterloo Milk Co had at least 38 different styles of milk bottles in various shapes, sizes and colors. Many had different painted slogans and images. The images featured children, athletes, families, and maps of the United States.
Many collectors are interested in the early milk bottles because they were so many styles. The bottle types changed often because people returned them to the dairy to be reused and they got broken or cracked with repeated use. Round milk bottles were mostly made through the 1940's and early 50's, then a square shape became more popular. The value of milk bottles depends on the condition, the size, the dairy, the image and message, and the paint color.
The Waterloo Milk Company
The Waterloo Milk Company was based in Waterloo, Illinois of Monroe County. The company started in 1897 and was originally known as the Fountain Farmer's Creamery Company. The company changed their name in 1908 to the M & O Milk Company because the dairy was only located a few yards from the Mobile & Ohio Railroad tracks. However, when the company started condensing milk in 1918 the name changed to the Waterloo Condensed Milk Company. Finally, in 1925 the business changed their name to The Waterloo Milk Company, Inc. after it incorporated. The company continued with this name until the business closed in 1969.
The dairy manufactured whole white milk, chocolate milk, whipping cream, orange juice, grape juice, ice cream, sherbet, cottage cheese and butter. The company was very prosperous for many years. In 1955, it was one of the largest businesses in Waterloo with sales over one million dollars per year. The company went out of business in 1969 when the competition from larger regional brands started to significantly take their market share.