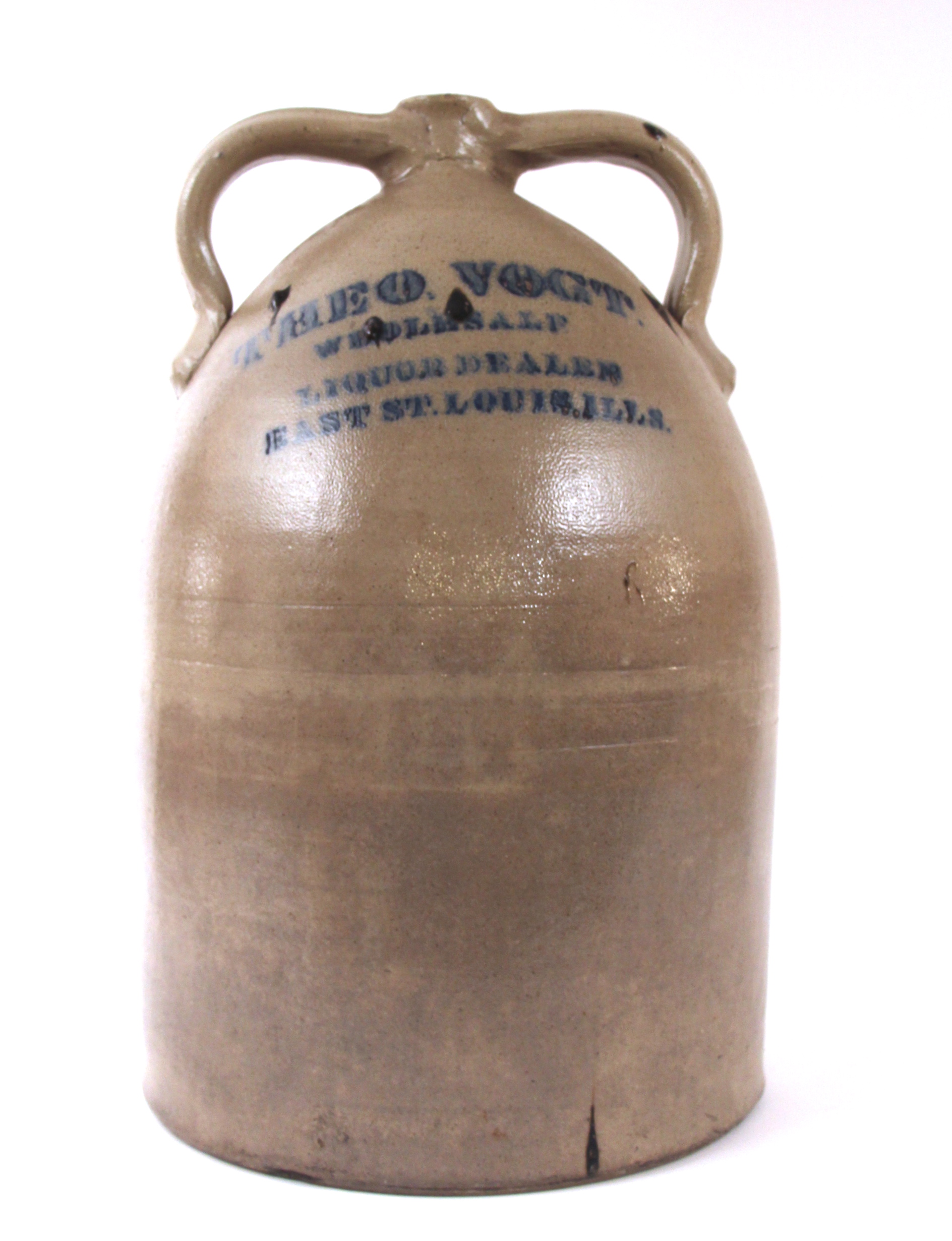 Theo Vogt Salt Glaze Stoneware Whiskey Jug 1880
This is a massive ten-gallon salt glaze stoneware whiskey jug made for Theodore Vogt, a whiskey wholesaler from East. St. Louis, Illinois circa 1880. The only other known stoneware whiskey jugs from Theo Vogt are one-gallon black-stenciled jugs from approximately 1900-1905.  This enormous jug stands at 24" tall, 16" wide and weighs fifty pounds. It was most likely used by a rural saloon owner who would refill it with whiskey and take it back to his tavern. It.
This hefty salt glaze jug would have been hauled by a horse drawn wagon back to the saloon owner's town on a periodic basis.  The jug may have been one of a handful produced, or more likely, a unique piece paid for by the saloonkeeper or by Theodore Vogt, a local wholesale and retail liquor dealer from East Saint Louis, Illinois.
This immense jug is the first one known to exist so it would be considered extremely rare. This earthen jug has a blue stencil with the dealer's name and location included on both sides. It also shows dark syrup drippings that came off the kiln ceiling and these are called "Turkey Drippings".
As a rule, it is difficult to find the earlier stoneware advertising pieces that are salt glazed.  The salt glaze stoneware was produced by potters throwing a common salt into the hot kiln while the pottery was being set during the firing process.  This salt left a glaze on the pottery that appears to be glossy and clear with an uneven texture similar to an orange or lemon peel.  This salt glaze process was done from the mid to late 1800's then replaced with more modern non-glazed methods to make whiskey jugs. Salt glazing became obsolete because it caused a great deal of air pollution and was challenged with clean air restrictions.
Most of the salt glazed pieces were eventually broken or outlasted their use as whiskey dealers changed to other types of whiskey jugs. This is the case with Theodore Vogt's business that ran from the late 1870's until 1915.  Mr. Vogt started in business selling wines, liquors and cigars at 339 Missouri Avenue.  He eventually moved to 407 & 409 Missouri Avenue as his wholesale liquor business grew.   The last known location of Mr. Vogt's business was at 327 Missouri Avenue in the city.  Mr. Vogt also owned three saloons at 329 Missouri Avenue, 307 East Broadway and 336 Collinsville Avenue, all also located in East St. Louis.
Mr. Vogt also helped start the East St. Louis – New Athens Brewing Company and became the President of the brewery in 1908.  Mr. Vogt's influence with the brewery helped secure over fifty saloons in the city of East St. Louis to have exclusive rights to selling the products from the brewery that was located in New Athens, IL.
Today, there are only two different variations of whiskey advertising jugs from Theo Vogt's liquor business known to exist. The other style is not salt glazed and is a one-gallon style stenciled jug. The other version was also made later around the early 1900′s.