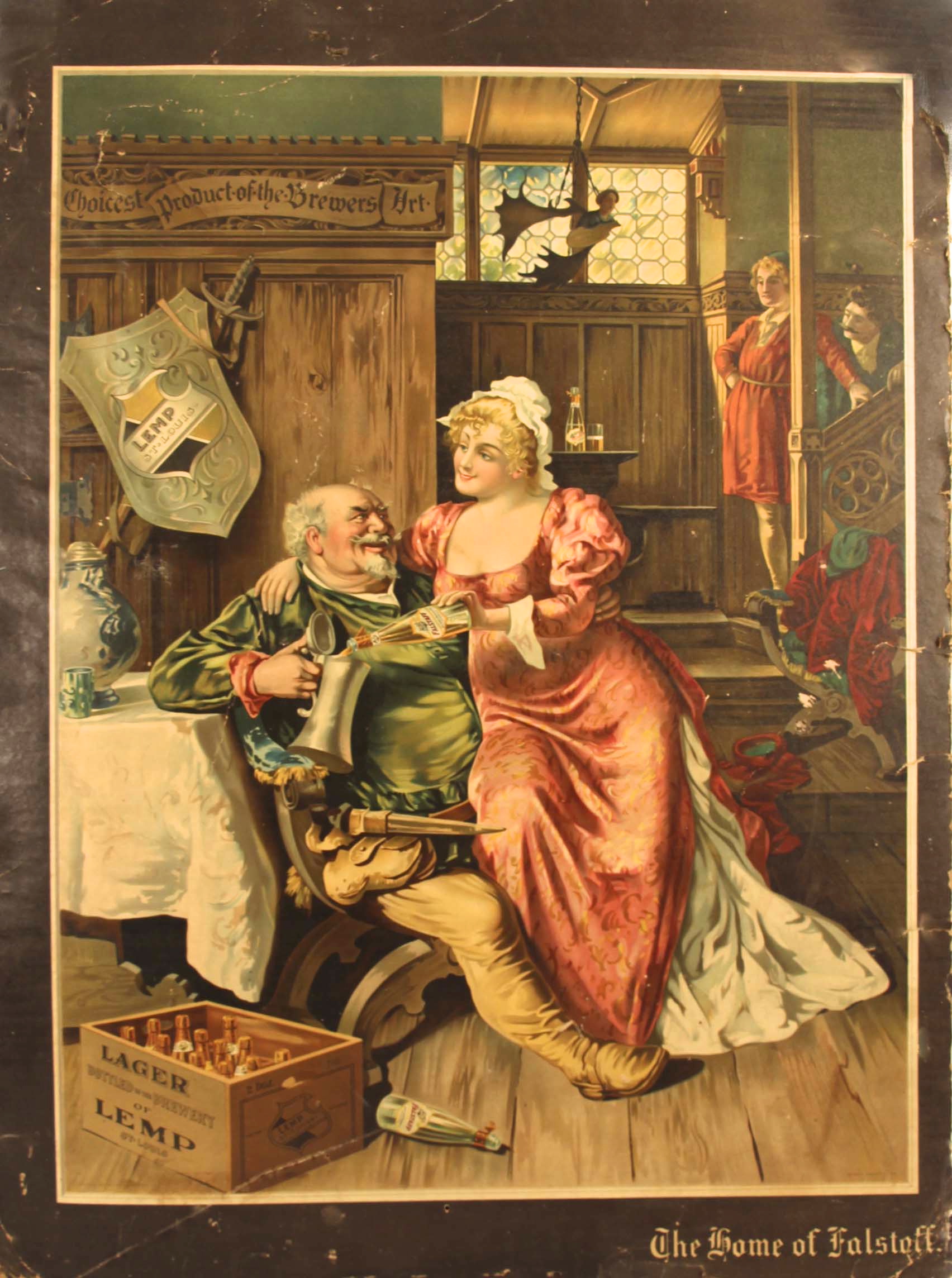 This is a rare colorful lithograph print advertisement made for the William J. Lemp Brewing Company of St. Louis, Missouri produced in 1907. This antique Breweriana collectible features Sir John Falstaff who was often used by the Lemp Brewing Co. for their advertising in the early 1900's.
Sir John Falstaff is a mythological character from three of William Shakespeare's plays. He appears in many of the scenes drinking beer in a tavern setting with friends. In this lithograph image Sir John is also with friends. He is sitting near a woman who is pouring a Falstaff beer into his stein. Two other people are watching nearby and a case of bottled lager beer sits on the floor. A banner at the top states,"Choicest Product of the Brewers Art" and near the bottom of the print is "The home of Falstaff." The lithograph is printed on a heavy cardboard stock and measures 31 1/2 inches high by 24 inches wide.
This rare Falstaff Beer advertising sign was discovered in an attic of a St. Charles, MO home that was over one hundred years old. The lithograph is one of only two known to exist.
The Wm. J Lemp Brewing Company
The Wm. J Lemp Brewing Company was ahead of its time in the mid-1800's when the business established itself in St. Louis, Missouri. It was the first brewery to use refrigerated train cars and their own railroad line to ship products nationwide. William J. Lemp took over the brewery from his father John Adam Lemp, and both helped grow the company to be successful.  Lemp introduced the Falstaff shield trademark in 1896 to protect his brand from imitators. The design for the shield came from a rendering of an artist's paint pallet. By the late 1800's, it was one of the top twenty largest breweries in America and their Falstaff beer was more popular than ever.