The West End Brewing Company formerly based in Utica, New York prior to prohibition certainly tried to emulate a high society feel to their beer based on the image used on this self-framed tin sign from the 1900 era. I love this image as the featured woman is leaning back alongside the fire, a small glass of beer in her hand, and wearing the best which society had to offer in her day. Everything about the scene exudes elegance, from the mahogany looking wood panel around the fireplace, the Persian looking Victorian rug across the floor, and the marble table where her two bottles of Utica brewery products are shown to the end user.
This particular self framed tin sign image is a stock image, meaning it was used by other breweries of that era as well, most certainly which were trying to convey a superior quality of product with the use of this sophisticated user image.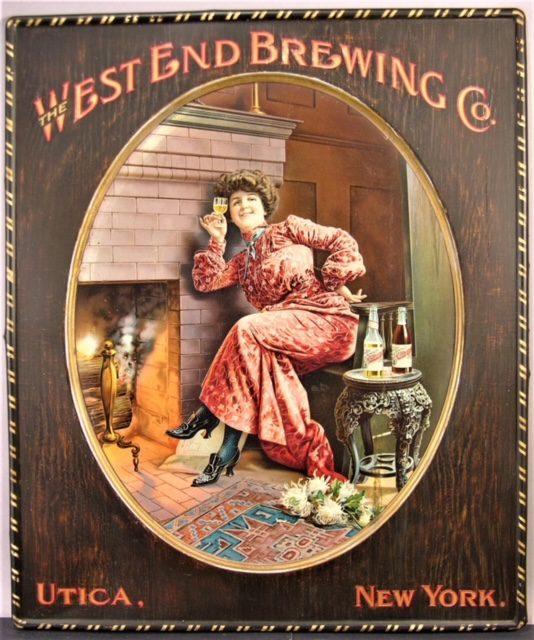 ---
The West End Brewery was founded by F. X. Matt in 1888 in Utica, New York. The brewery was one of twenty in the city of Utica at one time, and later was home to the Utica Club brand of beer. Matt's itself became a well known and selling beer in the 1960's and 1970's during the heyday of beer can collecting. The brewery still has a presence in Utica, and most recently was involved with the Saranac craft beer trade.