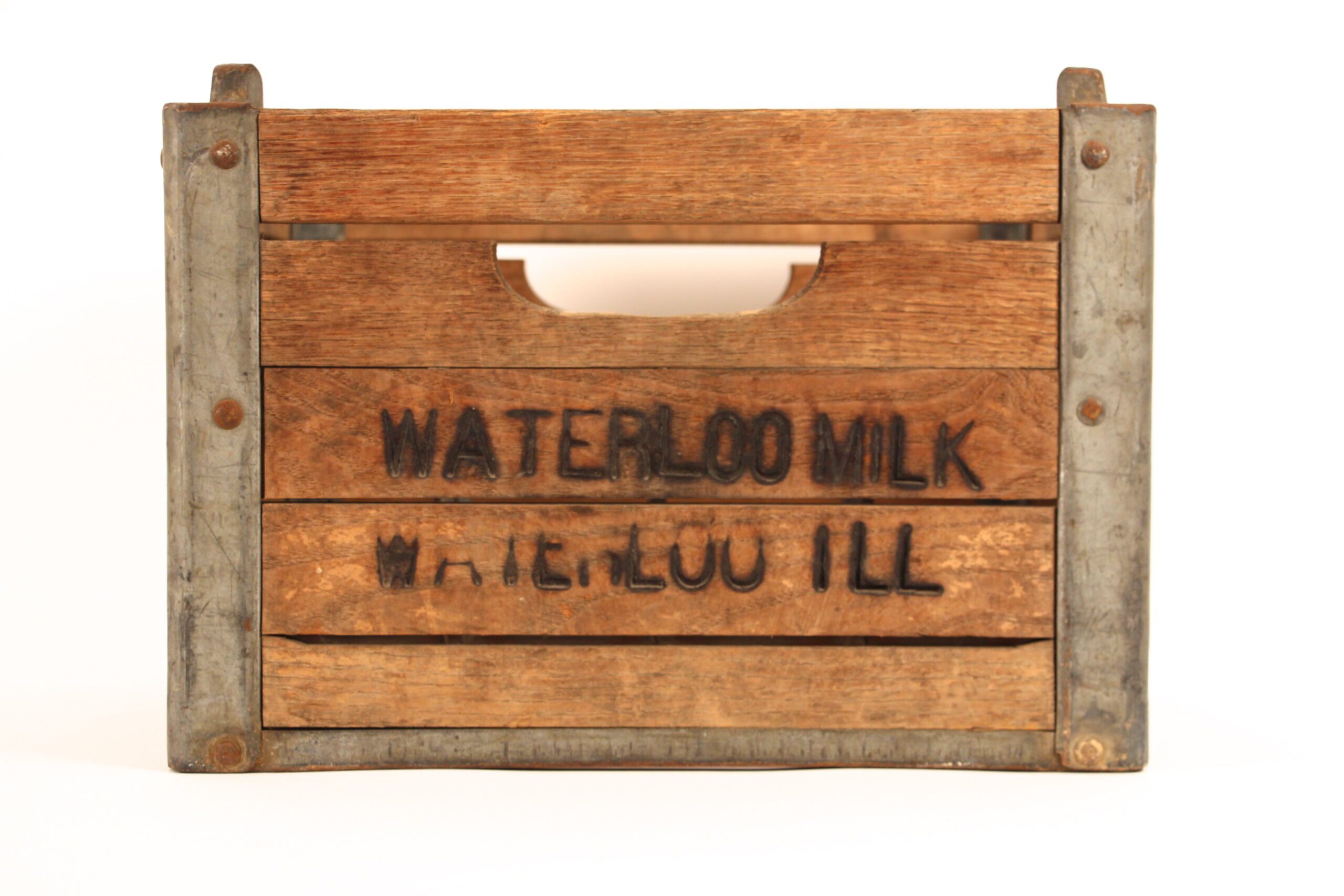 This is a wooden milk-carrying crate manufactured for the Waterloo Milk Company in Waterloo, IL circa 1940. The wording on this antique crate reads "Waterloo Milk, Waterloo, IL." It has galvanized steel dividers to hold the glass milk bottles. This vintage wooden crate was used to carry milk or other dairy products from the dairy to grocery stores or retail stores.
The Waterloo Milk Company created many different advertising pieces for their business. The company's most popular advertising collectibles are their milk bottles because there were at least 38 different kinds in various shapes, sizes and colors. The milk bottle styles often changed because people returned them to the dairy to be reused and they got broken or cracked with repeated use. Cardboard milk containers and ice cream containers are considered some of the most rare dairy collectibles. Most of those paper items were thrown away after the product was used making them difficult to find and are sought after by collectors. Lithographic signs, tins signs and stock certificates from the company are also difficult to find and considered valuable. Other popular antique advertising memorabilia includes metal milk cans and dairy crates.
The Waterloo Milk Company
The Waterloo Milk Company was a dairy in Waterloo, Illinois in Monroe County from 1897 – 1969. The dairy was originally known as the Fountain Farmer's Creamery Company. The company changed their name in 1908 to the M & O Milk Company because the dairy was only located a few yards from the Mobile & Ohio Railroad tracks. However, when the company started condensing milk in 1918 the name changed to the Waterloo Condensed Milk Company. Finally, in 1925 the business changed their name to The Waterloo Milk Company, Inc. after it incorporated. The company continued with this name until the business closed in 1969.
The dairy manufactured whole white milk, chocolate milk, whipping cream, orange juice, grape juice, ice cream, sherbet, cottage cheese and butter. The company was very prosperous for many years. In 1955, it was one of the largest businesses in Waterloo with sales over one million dollars per year. The company went out of business in 1969 when the competition from larger regional brands started to significantly take their market share.